Get engagement insights delivered to your inbox
Email address
Lack of recognition at work is among the top reasons your employees look for another job. Despite this, many companies fail to recognize employees outside of performance reviews and annual years of service awards that leave team members feeling unappreciated day-to-day.
What can your organization do to keep top performers motivated and make sure every employee feels appreciated for their hard work? It starts with building a culture of recognition. Let's explore the benefits of emphasizing employee recognition in your organization.
What is employee recognition?
Employee recognition is the ways an organization shows appreciation for its employees and their contributions. It is the formal or informal acknowledgement of an individual's performance or behavior as it relates to the organization's goals and values.
Practicing employee recognition means that your organization regularly and visibly acknowledges the hard work of employees. Employee recognition programs honor ongoing achievement and contributions, both formally and informally. Recognition can take a variety of forms, and it should consist of both frequent social recognition and tangible employee rewards, like prizes and bonuses.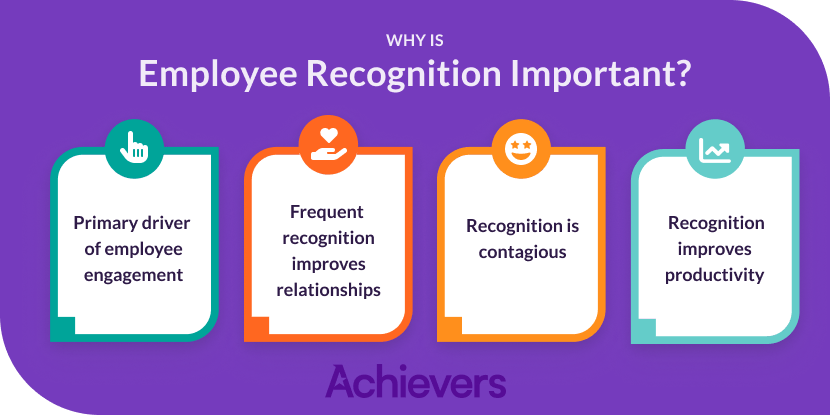 Why is employee recognition important?
Employee recognition is important because recognition drives engagement, productivity, job satisfaction, retention, and builds a sense of security during times of change. It also shows employees that their company values their contributions and that they're part of the success of their team and organization.
How to Build an Employee Recognition Program
The benefits of employee recognition
Employee recognition is the mark of a healthy organization. Let's examine a few of the benefits frequent employee recognition brings to your team and to your business, informed by key statistics from Achievers' Engagement and Retention report.
Recognition is the primary driver of employee engagement. It lets employees know they matter and their work is visible and valued, leading to gains across the organization in the form of better retention rates, improved employee productivity, and other positive effects.
Frequent recognition improves relationships and communication between employees and managers. Research tells us that employees leave managers, not companies. In fact, 46 percent of employees only feel "moderately" valued by supervisors, while 30 percent feel "not very" or "not at all" valued. Requiring managers and other leaders to provide regular feedback and praise for good work helps your entire team succeed and reminds managers to focus on the value of recognition.
Employee recognition is contagious and often reciprocated. Recognition programs encourage employees to publicly acknowledge each other's contributions on a company-wide newsfeed. This in turn strengthens relationships across teams and the entire organization. Currently, 53 percent of employees only feel "moderately" valued by colleagues.
Recognition improves employee productivity. Ninety percent of workers say when they receive recognition it motivates them to work harder. Organizations that consistently and frequently recognize employees in meaningful ways see the results in their bottom line, including improved stock prices and NPS scores.
Demonstrating these benefits to your organization's leadership is a necessity for starting an employee recognition program. Emphasizing how employee recognition programs contribute to long-term success is a great way to get executives on board with recognition.
Discover the complete guide to recognition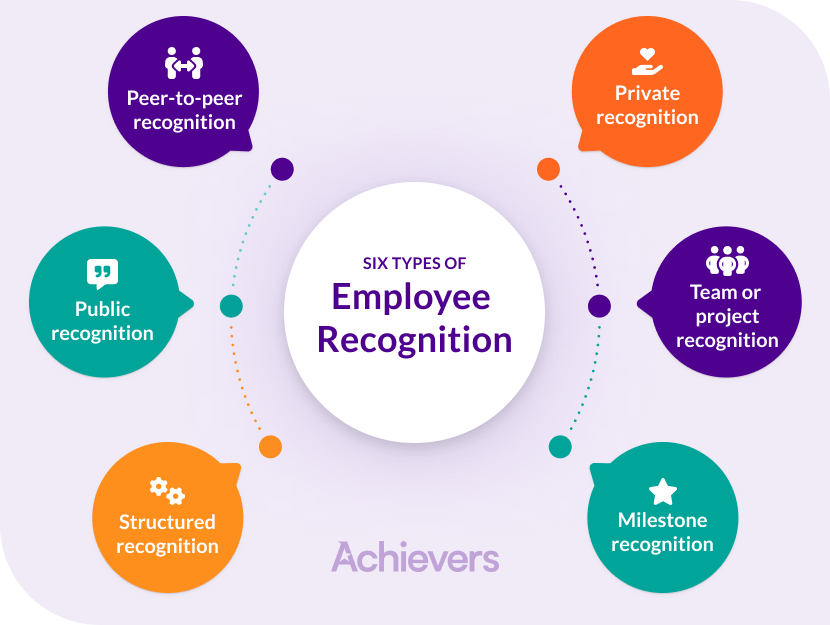 What are the 6 types of employee recognition?
1. Public recognition
Public recognition means showcasing appreciation for an employee's work in a public way so that it can be celebrated by others. This includes things like in-person recognition at company events, or written recognitions hosted in a public forum such as though a recognition platform.
2. Private recognition
Opposite to public recognitions, private recognition means acknowledging an employee's performance in a way that's only visible to them. This can be done in a one-on-one conversation, by email, or through a personalized handwritten note.
3. Peer-to-peer recognition
Peer-to-peer employee recognition is when one co-worker recognizes the contributions or achievements of another. This type of recognition can be public or private. It is often regarded as meaningful because it comes from a peer who knows the ins and outs of the other employee's everyday experience at work.
4. Structured recognition
Structured recognition is more formal and can be shared through emails, special presentations, company events, etc. Structured recognition is often part of a regular feedback process that has specific steps for creating, sending, and sharing a recognition.
5. Milestones recognition
Milestone recognition is a way for a company to acknowledge and celebrate employees who have reached a significant tenure or amount of service. Examples include recognizing an employee who has been with the company for 25 years or a salesperson who has closed 100 sales.
6. Team or project recognition
Team recognition shows employees that their contributions are a valuable part of the company's success. Team or project recognition recognizes a group of employees who have completed a project or amount of work, with a positive outcome. Examples include a team that finished a project ahead of schedule or a department that met its quota for a quarter.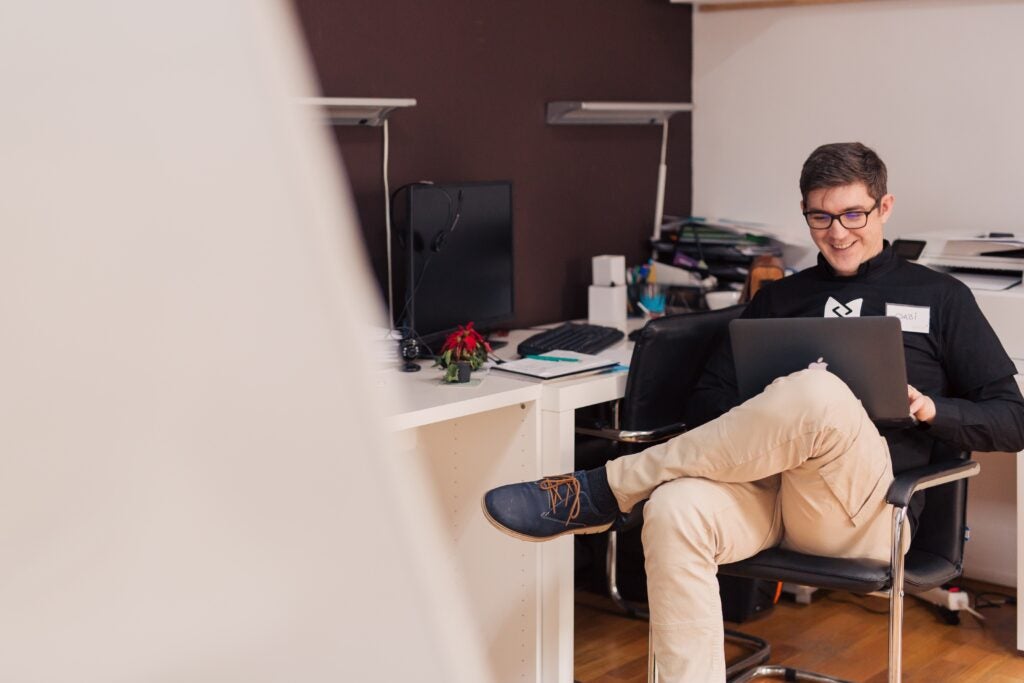 Employee recognition guidelines
Here are some simple guidelines to follow when creating and sharing a recognition to an employee:
Be timely — Send recognition right away to have the greatest impact
Be specific — How did their contribution help the team or the organization?
Say thanks — Don't underestimate the power of a thank-you
Tie it back to company values to reinforce desired behaviors
Share the recognition publicly
How to start practicing employee recognition
Great news. Your leadership supports initiating an employee recognition program. Now it's time to set yourself up for success. Let's take a look at proven methods for building a successful employee recognition program.
1. Understand that employees crave social recognition more than money
While employees appreciate financial rewards, career goals and social needs often mean more. According to Harvard Business School researcher Amy Whillans, "What really matters in the workplace is helping employees feel appreciated."
Employee recognition also improves workplace culture, manager performance, and customer loyalty. In fact, 92 percent of workers agree when they're recognized for a specific action, they're more likely to take that action again in the future.
Social recognition can be a part of each employee's daily work experience and executives should lead by example. You can also create fun campaigns to boost the frequency of recognition, like those held during Employee Appreciation Week and Cox Automotive's annual Spark Week, which resulted in 3.2 times the usual number of daily recognitions and led to a high level of participation.
2. Build a business case for recognition
You can roll out a recognition program quickly, but it may take time to measure the effects. It's critical to establish the business case for recognition in advance to obtain buy-in from leadership. Emphasize the proven benefits of recognition and show that you have a plan for implementing your recognition program with measurable goals and a platform that fits your business.
3. Try a point system
Allowing employees to earn points and redeem them for rewards makes the rewards more meaningful and acknowledges that each team member is unique. Organizations with a point system have experienced a significant improvement in sales, customer satisfaction, and voluntary attrition.
A point system makes managing employee recognition easy for even the largest organizations, like Scotiabank's recognition program, Applause 2.0 that engages 90,000 employees worldwide. To keep momentum going with their employee recognition program, Scotiabank built a two-week campaign to create excitement in the workplace that encouraged employees to pay it forward by recognizing their peers. Individual contributors, who typically only have access to non-monetary recognition, were given access to points to award. Employees were able to redeem points for a variety of rewards and the results were extremely positive, with over 47,500 points-based recognitions sent across the platform during the campaign.
4. Recognize your employees early and often
Recognition should be given regularly and immediately. Research shows that 75 percent of employees who are recognized at least monthly report that they are satisfied with their jobs and 60 percent want to be recognized more frequently. Create a culture of recognition by praising good work in real time across multiple channels of communication, where everyone can see it and is encouraged to join in. Express appreciation for leaders and colleagues who regularly practice recognition as well.
5. Measure the success of your employee recognition programs
How can you tell if your employee recognition program is making an impact? Start by setting goals for key metrics. Target and measure things like activation rates, recognitions sent and received, and the number of leaders participating. You can use pulse surveys, together with focus groups and other tools, to track employees' changing perceptions of recognition in your organization.
Also look for improvements in key business areas such as retention, culture, customer satisfaction, profits, and other business goals. Recognition breeds engagement, and Aberdeen Group data shows that companies that implement employee engagement programs see a 26 percent increase in annual revenue. Exploring correlations between your recognition program and your bottom line is the best way to demonstrate value to the business.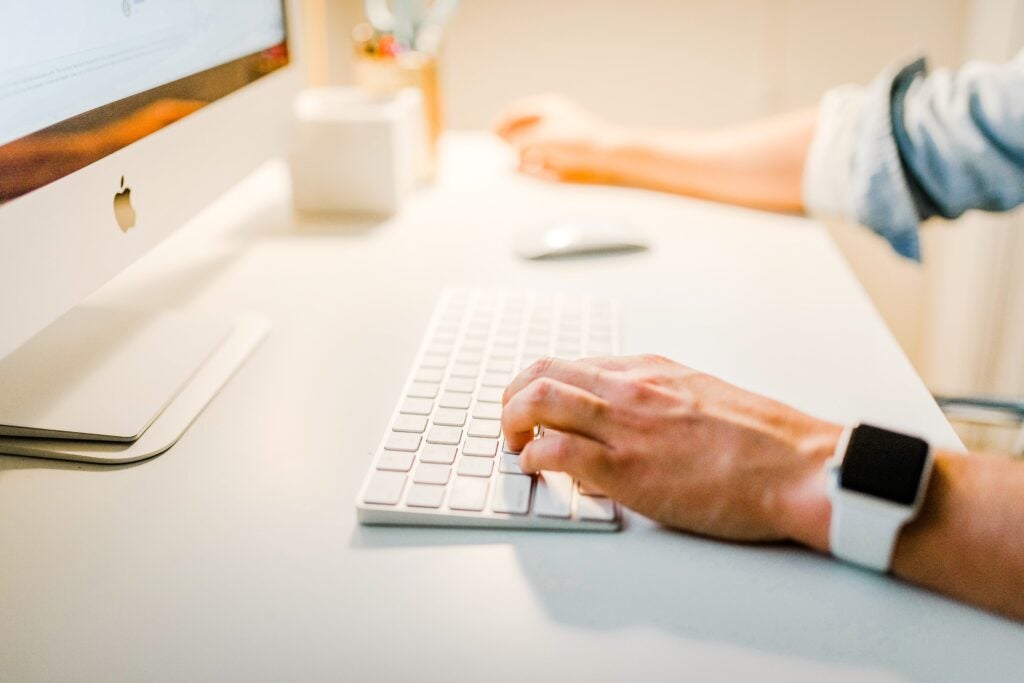 What is the best recognition for employees?
A modern employee recognition solution streamlines the process of awarding points and allows employees to include messages of appreciation when they give points to a coworker. Best practice is to allow these messages to be accompanied by fun images, gifs, and more.
The best employee recognition includes a mix of social recognition and meaningful rewards. Employees value social recognition as much or more than monetary rewards. And pairing social recognition with rewards will boost the impact — and it's easy to combine the two with a points-based reward system.
Rather than guessing at what type of reward an employee might like or giving a forgettable reward like a mug or desk ornament, give employees an allowance of reward points they can then award to others. These points can then be redeemed for rewards they actually want.
What to say when recognizing an employee
When recognizing an employee, it's best to focus on how their individual contributions supported their team and relate to the organization's goals. It's also great to personalize it with details about how their hard work, dedication, teamwork, or creativity made an impact and how it made you, as the recognizer, feel.
Example of a successful employee recognition program
General Motors
When designing your employee recognition program, you don't need to start from square one. There are many companies that have successfully navigated the path to creating a culture of recognition, and it makes sense to examine them and see how their examples can guide your own approach. For instance, General Motors' (GM) program is a real-world demonstration of the positive effects of employee recognition.
GM was in the midst of a global transformation, a company with over 160,000 employees spread across six continents determined to accomplish ambitious new goals. How would they align so many geographically dispersed people and deliver on their vision to create a world with "zero crashes, zero emissions, and zero congestion"? The answer was the GM Recognition program, powered by Achievers.
GM set target metrics for employee participation and rapidly exceeded them with a 97 percent activation rate. Furthermore, 7 out of 10 employees continue to participate actively, sending and receiving social and points-based recognition using a friendly recognition dashboard and mobile app. Today 8 out of 10 managers share recognitions monthly, with an average of 4 recognitions each month. Since launching the GM Recognition program, GM has received over 5000 positive comments about the program and how employees felt more appreciated and valued in the workplace. Creating a culture that recognizes work well done gives GM's employees much to be grateful for.
How to choose the best employee recognition software
Whether you're communicating by email, intranet, Slack channels, or video, the workplace is increasingly digital. Your employee recognition program should follow suit. Employee recognition platforms can help you track the success and adoption of your initiatives and analyze the results. They can also integrate with your other business tools and amplify the effects of recognition across the organization.
As you evaluate platforms to support your employee recognition programs, consider the following factors:
Does it have security certification, to protect your employees' private data?
How well does it integrate with your existing HR systems, so staff can work seamlessly across enterprise applications from Outlook to Workday and WeSpire?
Does it provide real-time reporting, so you can easily measure KPIs, such as program adoption and activation rate and monthly recognitions sent and received, and track your budget?
Does it provide social recognition to showcase employee accomplishments and encourage alignment with company values?
Finally, don't forget an enjoyable user experience with mobile-friendly design! A platform only works if your employees actually use it. Recognizing great work should be delightful, not dispiriting.
For more criteria on evaluating employee recognition software, consult the checklist in our Buyer's Guide to Recognition Software.
Realize the benefits of employee recognition
Now that you know the importance of recognizing employees, you need to start building a culture of recognition in your organization. Achievers Recognize can help you jumpstart that process. It features social and points-based recognition, a friendly user experience, a company-wide newsfeed, digital celebration cards, and mobile-friendly options.
Recognize is also designed to integrate with the tools your organization already relies on. The platform provides detailed metrics, so you can analyze how your program is working and what aspects need adjusting.
Ready to find out how Achievers Recognize can supercharge your team and results? Request a live product demo now.

In this article: