Get engagement insights delivered to your inbox
Email address
Have you ever spent time at a company where all you got for a years of service award or work anniversary was an instant message from your boss commenting on how fast the years go by? Or perhaps you received a trophy that sat on your desk, collecting dust. These empty forms of recognition fail to show true appreciation or motivate continued excellence, and you likely thought about leaving as a result.
To retain and engage employees, provide them with meaningful recognition for their years of service — and the dedication those years demonstrate. Effective years of service awards convince employees to give their all for years to come.

What are years of service awards?
Years of service awards recognize and celebrate an employee's tenure at a company, and are often given after 1, 5, and 10 years of employment within the organization.
Why are years of service awards important?
Boost employee metrics
Create loyalty
Meet employee expectations
Demonstrate values
Years of service awards are important because employees spend most of their waking hours at work. Rewarding them for their investment of time and effort drives performance and bolsters retention. Years of service awards are especially useful in keeping employees engaged and loyal. Here are just some of the benefits of instituting a years of service awards initiative at your organization — preferably as part of a comprehensive recognition program.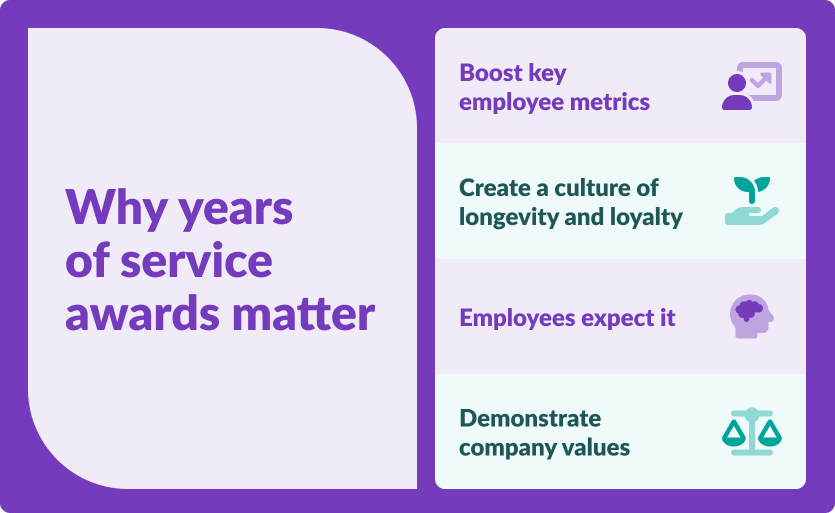 Boost key employee metrics
At a time when loneliness at work is at an all-time high, cultivating a sense of belonging among employees is paramount. When executed well, years of service awards foster feelings of appreciation and connection. Showing your employees they are truly valued boosts engagement and encourages employees to stay for the long haul. What is more, years of service awards can potentially provide tax benefits to companies whose programs comply with the relevant requirements.
Create a culture of longevity and loyalty
A startling 38% of employees leave in their first year, and 78% leave within five years. Part of that strategy should focus on recognizing employees. Years of service awards are an easy way to ensure your employees are rewarded for everything they've brought to the company. Consistent, genuine recognition makes people want to stay and keep contributing to your organization's success.
Employees expect it
Ignoring major events disheartens and demotivates employees. And just recognizing that they filled a seat at your company for a certain number of years without acknowledging any of their specific wins during that time is just as demoralizing. Employees expect you to recognize their accomplishments in personalized ways. Recognizing dedication along with an employees' closed sales, their new certifications, or their outstanding customer service makes the award truly meaningful.
Demonstrate company values
Years of service awards present an opportunity to highlight your company values. Recognizing employees who demonstrate company values year over year urges others to emulate their actions and hit the same milestones. Tying your company values to recognition solidifies their significance in your company. This shapes the culture of your organization, reinforcing the good behavior of all employees.
2023 employee engagement and retention report: the future is flexible – workforce trends
Ideas for years of service awards
Reward points
Experiences
Ceremonies
Thank-you messages
Donations
Years of service awards can take many forms. To make things easier for you, here are five ideas that are relatively simple to implement. Of course, these ideas are not exclusive. Depending on your budget and the occasion, you could do them all!
Reward points
Rather than giving everyone the same gold watch, consider supplementing your service awards with a points-based reward system. Every month, employees can give and receive points for acts of kindness or jobs well done. When points hit a certain balance, employees can redeem them for rewards of their choice. You can offer additional points to recognize milestones and connect them to specific employee accomplishments, which helps individualize your awards.
Experiences
Who doesn't want an extra vacation or a seat at a coveted concert? Many companies now offer experiential rewards like trips or events as part of their years of service program. Experiences spark joy and add another layer of uniqueness to your rewards. Employees will associate the positive emotions from their experience with your company, and they'll be excited to hit future milestones.
Ceremonies
Presenting a service award in a ceremony or during an all-hands meeting broadcasts service awards to everyone in the organization. This level of recognition gives weight to the award and makes other employees watching want to receive the same distinction one day.
During the ceremony, be sure to highlight each recipient's specific achievements and how they had an impact on the company. Having someone in a leadership position bestow the award and individually thank each awardee makes the presentation even more special. Once the ceremony is over, throw a party — whether at work, a nearby restaurant, or virtually. You can invite coworkers, friends, and family to make the celebration inclusive.
Handwritten messages of thanks
Have you ever saved a thank you card? You're not alone. The Harvard Business Review found that 76% of people save handwritten thank you notes. Sending a heartfelt, personalized message can move people to tears. By contrast, using a template is obvious and disingenuous. Show how much impact a person has had on your organization by including a letter of recognition with a years of service award. Be sure to emphasize what has made employees an extraordinary asset instead of just recognizing their tenure.
Donations to favorite charities
Employees have a life outside of work. Many of them donate their free time to charities that hold a special place in their hearts. So what better way to recognize an employee than with a donation to a cause they care deeply about? Ask the award recipient's department, family, or friends for tips on where to donate, and commemorate the employee's milestone by contributing to that nonprofit. Donating to a worthy cause demonstrates that you care about what the recipient cares about, and it adds an altruistic element to your culture.
25 examples of service awards for employees
Monetary rewards
Plaque
Pins
Mugs
Certificates
Trophies
Gift cards
Electronics
Trips
Time off
Paid family vacations
Gift boxes
Framed photos
Tickets
Paid subscriptions
Commemorative video
Stock options
Promotion
Professional development opportunities
Scholarships
Sabbatical leave
Access to mentorship programs
Office upgrade
VIP office parking
Work anniversary party
Find out why a culture of recognition is the MVP of employee experience.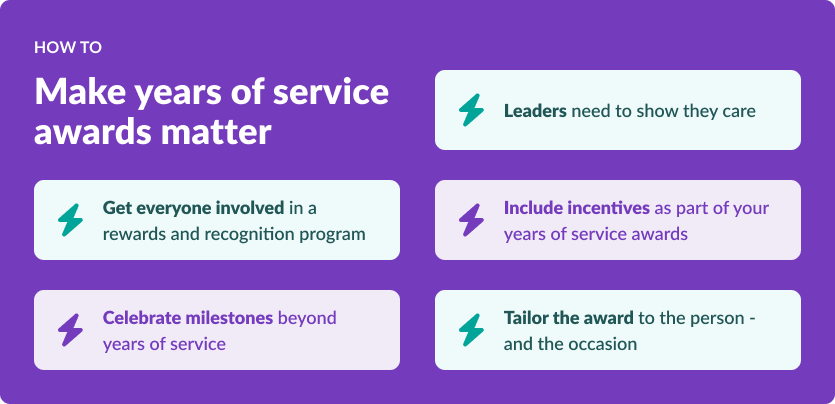 How to make years of service awards matter
It's not enough to choose a few ideas to implement and never revisit your years of service awards. Employee needs and expectations are always changing. Taking the time to adapt awards to each individual and rewarding people for specific actions in addition to the number of years under their belt helps your awards stand the test of time. Let these best practices guide you when evaluating and iterating on your awards process.
Get everyone involved with a reward and recognition platform
The majority of employees (69%) cite reward and recognition (R&R) programs as motivation to stay at their current job. Companies with a culture of recognition are also twice as likely to see increased employee engagement. And organizations that enable frequent, real-time recognition are 41% more likely to see increased employee retention.
Rather than solely relying on HR to provide shoutouts to employees at various stages of their career, R&R platforms allow all team members to get in on the recognition action. Coworkers, managers, and executives can show their appreciation for others directly — at any point in time. This leads to a self-sustaining cycle of recognition, spreading its benefits throughout your company.
Leaders need to show they care
Imagine receiving a letter of recognition from your company's CEO. According to Deloitte, 44% of employees value recognition from higher levels of leadership the most. Your leaders need to be the biggest advocates for a culture of recognition
Be sure to have managers and executives present at ceremonies, sign letters, and mention the achievements of others at all-hands meetings. Train your leaders and equip them with the resources to provide a great recognition experience. You should also look for tools that automatically remind managers when a direct report's anniversary is approaching and make it easy for them to show recognition for a team member's successes at any time.
Tailor the award to the person — and the occasion
Again, personalization should be top of mind when designing awards. This means tailoring the award to the recipient and providing a reward appropriate to the milestone being celebrated. Take into account the number of years an employee has been with the company, their position, and other accomplishments.
To make an especially personalized award, contact friends, old bosses, clients, or vendors, and let them submit a note or photo with the award recipient. Turn these submissions into a video or email to send as part of the years of service award. Involving peers, family members, and other people the employee has worked with can turn an anniversary into a shared celebration that underscores that person's influence on the company.
Include incentives as part of your years of service awards
When creating or revamping your years of service program, think about incorporating incentives besides physical or monetary awards. Additional retirement benefits matching or sabbaticals after a certain number of years are standard at many enterprises. Brainstorm other ways to incentivize employees to stay. Some examples are profit sharing, sponsored education, and additional time off. Even having the freedom to pick projects can qualify as an extra incentive.
2023 State of Recognition Report – The Gratitude Gap
What are long term service awards?
Long term service awards are recognitions given by companies to their long-serving employees. These employees are considered especially valuable based on their loyalty, dedication, and deep understanding of the business.  Typically, long term service awards are given to employees who have been with the company for 5, 10, 20, even 30 years or more.
Celebrate milestones beyond years of service
Simply coming to work for 1, 5, or 10 years in a row isn't what years of service awards should stand for. Being promoted, bringing in a big account, or passing a certification test are all huge achievements. Celebrating these major wins in addition to recognizing employees for small wins establishes a habit of recognition across your organization. To accompany your service awards, publicize employee accomplishments using internal social channels, your company intranet, newsletters, and other avenues.
Discover the impact inclusive and frequent recognition can have on your business.

What is an employee service awards catalog?
An employee service awards catalog is a collection of items that employees can choose from to celebrate their work anniversaries. Rather than selecting the award for them, a catalog allows employees to choose the reward that is most significant to them.
Go beyond years of service awards with a culture of recognition
There's so much more to showing appreciation than giving an award every few years. Generic gifts and messages don't convey appreciation for the unique ways your employees have impacted the organization during their tenure. Even when done well, years of service awards need to be part of a comprehensive recognition program to improve loyalty, participation, and performance.
Recognition platforms like Achievers Recognize help organizations with all facets of employee recognition. Achievers Recognize makes it easy for any employee to recognize others anywhere, at any time. It allows employees to provide social and points-based recognition with an intuitive user interface on desktop and mobile. Achievers Recognize fits seamlessly into employees' day-to-day workflow, and it integrates with engagement platforms like Achievers Listen, as well as communication tools like Gmail, Outlook, Slack, and Microsoft teams.
Achievers' customers have seen incredible results time after time. They're 2.5 times more likely to see increased employee retention and 36% more likely to see an increase in employee engagement. Our customers are also 54% more likely to give their culture of recognition a high rating than customers of other technology providers.
Interested in getting the most out of years of service awards and all your other recognition initiatives? Schedule a free demo of Achievers Recognize today.