Get engagement insights delivered to your inbox
Email address
Have you ever put in a ton of hours perfecting a presentation that was completely overlooked? If so, you probably didn't give the same level of effort and thought to your next presentation. Every time an employee's work goes unappreciated, they lose motivation. It's demoralizing to continue putting time into projects without getting any recognition or reward.
Sadly, only 46% of employees rate their leaders and managers above average in providing recognition, and 59% of employees are not recognized at their preferred frequency. The good news is that companies that use an employee recognition program dramatically improve employee morale. These companies are 6 times more likely to give recognition multiple times each month, 36% more likely to see an increase in employee engagement, and 36% more likely have their employees rate their employer brand highly.
To achieve these results, you need to construct your program with specific metrics in mind. This piece explains why recognition is important, outlines the criteria you should consider when launching your program, and suggests key performance indicators to assess your success.
Starting your recognition program
Implementing a successful recognition program is no small feat. Several general considerations can help you get your initiative off the ground.
First, make sure your recognition program is geared towards everyone in your organization. Today, only 34 percent of companies provide inclusive recognition. Enabling every employee to participate in the program is critical to instituting a true culture of recognition. Recognition should be available to teams, individuals, business units, and locations, without bias. Use a mobile-compatible recognition platform for employees who may be traveling or on the ground at work.
Employees won't magically start using a recognition platform as soon as you build it. You need to get the word out about your recognition program far in advance. Think about it like a product launch or a new sales strategy: you need an internal promotional strategy, and you must teach people how to engage with it. Many organizations forget the latter. Only one-third of organizations train individual contributors to recognize, and if training is offered, it's often offered only once. Training should be frequent and focus on both the importance and quality of recognition. Try to add recognition to onboarding and promotion training to make sure it stays top of mind.
Lastly, remember that what gets recognized gets repeated. Connect recognition with your values and mission so your employees can make the link between their positive actions and your company's overarching vision. When employees see their peers getting rewarded, they'll start changing their behavior.
5 criteria for employee recognition programs
Before implementing any program, you should outline a set of criteria to help you measure success. Each of the following elements are key to any recognition program. Companies that meet these criteria are set up to establish a true culture of recognition.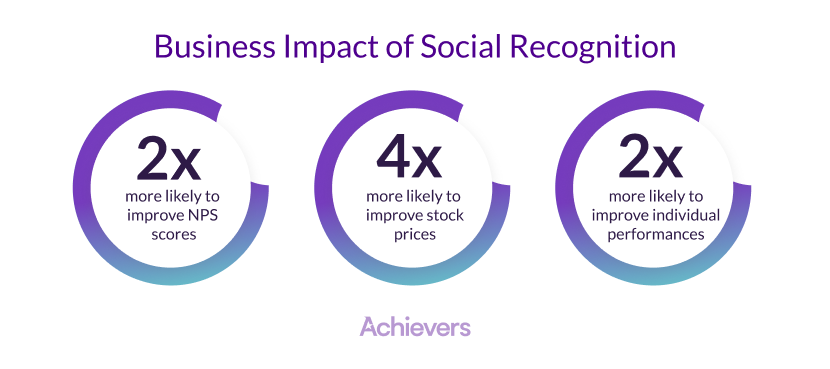 1. Social recognition
When most people think of a recognition and rewards program, they think of bonuses or other monetary awards. However, social recognition can be even more impactful than monetary recognition. Providing social recognition encourages all employees to get involved, enabling more frequent recognition across the organization.
People who are recognized for their good work are far more likely to stay with their employer and be motivated to do good work. In a study by Aptitude Research Partners, employees at companies that emphasized social recognition were twice as likely to improve individual performance. But this wasn't limited to employee metrics. Besides increasing company morale, social recognition benefits the bottom line. Social recognition is twice as likely to improve NPS scores and four times as likely to improve stock prices.
Find out how you can build a business case for social recognition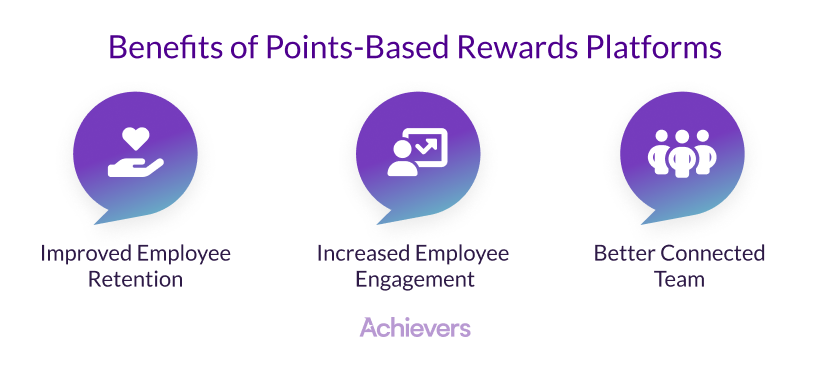 2. Points-based rewards
Points-based rewards piggyback off of social recognition. Each employee is allocated a particular number of points every week, month, or quarter to dole out to colleagues. These points add up over time, and can be redeemed for an award of the receiver's choice. This naturally leads to more frequent recognition and keeps a company's budget from skyrocketing. Accruing points also creates excitement among employees and encourages them to find more reasons to appreciate each other.
A points-based system allows employees to tailor rewards to their wants and needs. Rather than forcing employees to get the same gift, you enable them to choose. This underscores the fact that your company cares about each individual's contribution to the organization and makes rewards more meaningful.
Reasons to use points-based rewards
Increased employee engagement
Improved employee retention
Better connections between team members

3. Peer-to-peer recognition
Peer-to-peer recognition should be the foundation of your recognition program. Frequent recognition between team members is the best way to cultivate a culture of recognition. Peer-to-peer recognition produces a multiplier effect, inspiring even more employees to engage with and recognize others who are reinforcing your culture.
Ongoing peer feedback has a positive impact on an organization. HR professionals are more likely to rate their employee recognition program as "good" at organizations where any employee is able to nominate or recognize a peer, compared with those who had supervisors, senior-level executives, or HR give recognition. And Achievers' 2020 State of Recognition Report found that programs which include recognition between team members are more effective than those that do not.

4. Recognition from leadership
Employees follow direction from their managers. As such, leadership needs to set a precedent for recognition. Christus Health is a great example of a company that excels at fostering leadership recognition. Christus used Achievers Recognition to ensure their program was adopted by everyone一especially upper management.
With Achievers, Christus began spotlighting top leadership recognizers in their quarterly recognition and rewards, and added a "recognition by leaders" list to their platform to gamify leadership participation. Now, 99% of leaders have activated their kudos! account, and 85% of them are active each month. This behavior trickled down to associates, who had a 2.9% lower turnover rate three months after the campaign. Overall, Christus measured an ROI of nearly 250% for every dollar spent.

5. Personal and team milestones
Recognition should be an everyday occurrence, but that doesn't mean you should ignore the big milestones. Anniversaries, birthdays, team accomplishments, and other achievements should be highlighted as well. These milestones could be personal, like graduating from a program or earning a new certification. Or they could be finishing a team project or meeting departmental goals for the quarter.
Consider using a platform that empowers colleagues to send digital celebration cards, or allows managers to send recognition to their entire team. This makes employees feel as though none of their accomplishments go unnoticed.
What about awards?
The criteria above are fantastic guidelines for when and how to recognize employees, but rewarding employees is a significant piece of the recognition puzzle as well. In this day and age, employees no longer stick around for a gold watch or other antiquated gift. They want to be rewarded regularly with thoughtful, significant awards.
Rethinking how you reward your employees helps you transition from years of service awards 一 which are one-size-fits-all and don't mean much 一 to a true culture of recognition. Give employees a range of options for redeeming their points, from trips to household items and beyond. Gift cards are an excellent and popular way to guarantee employees are satisfied with the reward they pick.
Take a peek under the hood of your peers' recognition programs to see how yours compares
How to measure criteria for employee recognition
Tracking your progress is key to running an effective and efficient employee recognition program. Many HR platforms have built-in reporting functionality to show key performance indicators (KPIs) at a glance. Dashboards like the one below show budget utilization, monthly active users, activation rates, and benchmarks in real time. These dashboards can be made visible to any leader, and they can be exported to combine with other organizational reports.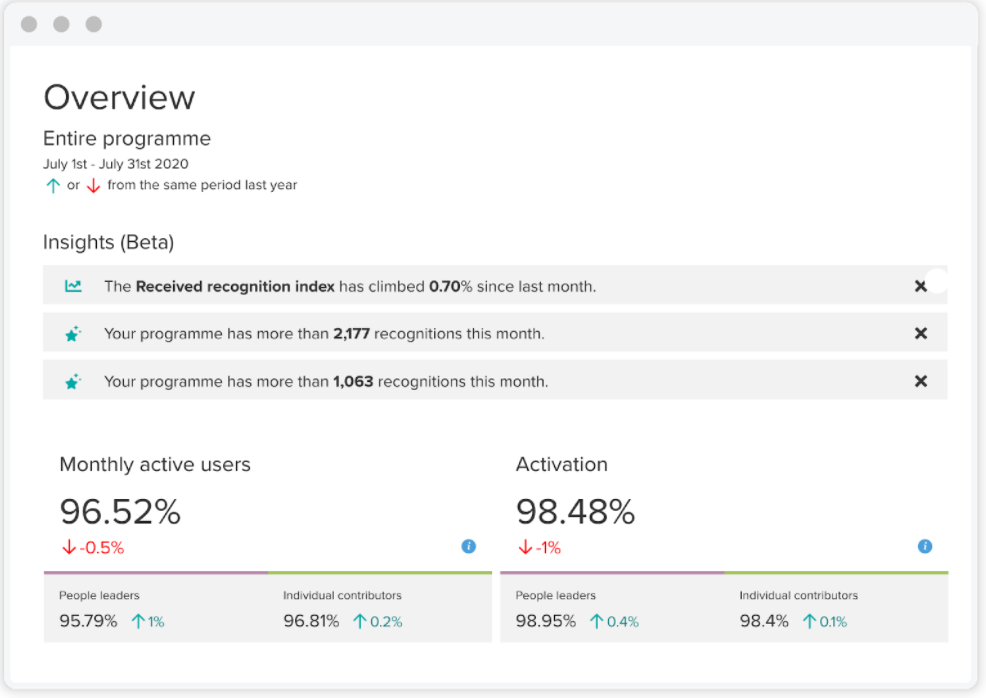 But before you geek out on dashboarding, your company should establish KPIs that reflect the goals of your recognition program. Here are a few examples.
Participation of leaders vs. individuals
As mentioned above, peer and leadership recognition are two best practices of a strong recognition program. Measuring the activity of those two groups is a good indicator of recognition health. If activity is low, try a new internal campaign to reinvigorate the program.
Team vs. individual recognitions
Teams and individuals both deserve to be recognized. Having more of one than the other can be a sign that recognition is waning. Host periodic virtual events and post on your intranet to ensure people know that they can recognize teams and individuals alike.
Top recognizers
Top recognizers send the most recognitions and reinforce the need to recognize frequently. Try to learn from their activity. Do they send them on certain devices? After certain projects? This can give you ideas for how to promote recognition internally.
Activation rate
Activation rate is probably the simplest metric to track. It indicates how many employees have signed up for your recognition program. An activation rate of 100% is ideal, but this takes significant internal marketing and leadership participation.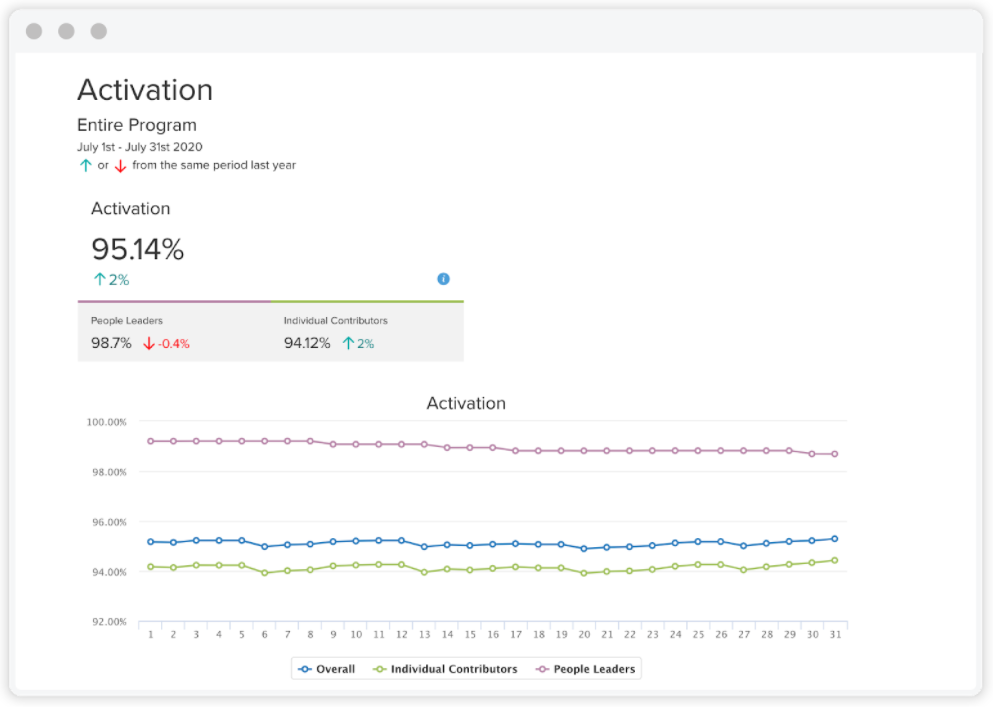 Monthly active users
Active users are a key measure of adoption. The more active users you have on your platform, the more recognition will take place.
Top recognized
Most companies count how many recognitions each person sends, but the number of received recognitions is just as valuable. Received recognition can be in the form of social appreciation, point rewards, or both. See if there are differences between departments, role level, tenure, or even diversity and inclusion demographics to ensure certain groups aren't being excluded.
Point redemptions for rewards
Since you want as much participation as possible, it's important to know whether or not your rewards appeal to your employees. If few points are redeemed, it could be a sign that you need to change your offerings. Ask early redeemers for feedback. They might have insight as to what rewards could be more enticing.
Budget utilization
You are probably operating under a tight budget for your recognition program. Budget utilization shows how much money you've spent and how much you have left. Looking at this often can help you adjust your budget throughout the year.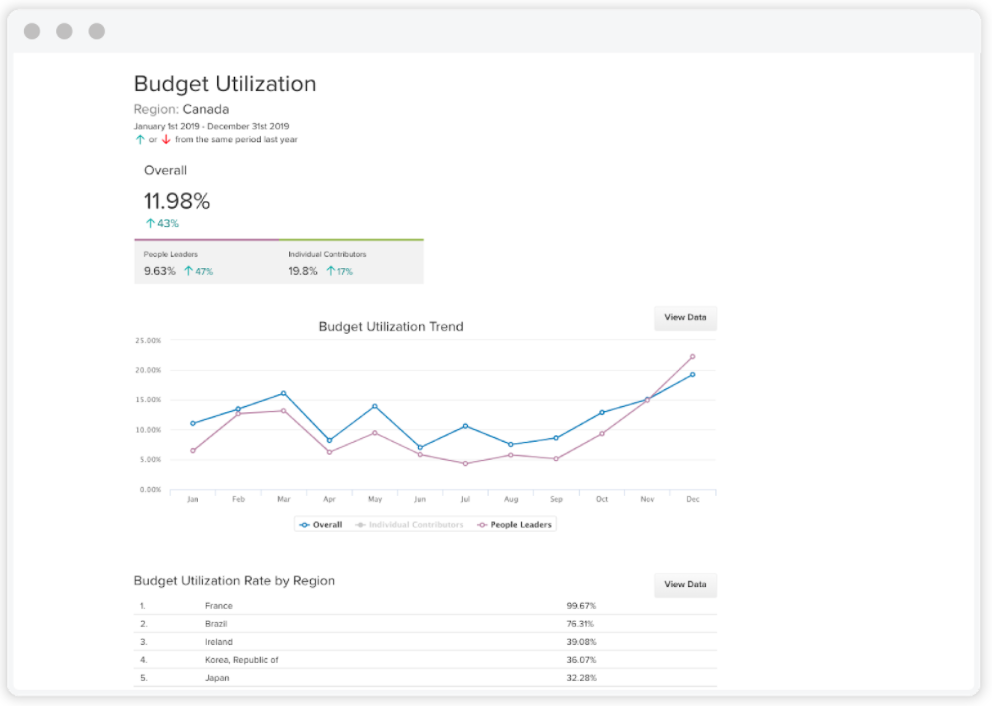 Benchmarking
Some platforms have a benchmark measure to show how your company's program is performing versus others of similar size and scale. Benchmarks are a good gut check to make sure you're following best practices and are promoting your program enough internally.
Recognition engagements
Recognition platforms often have ways to engage with each recognition. Likes and comments are ways employees can bestow additional appreciation. Some platforms even have "boosts" that let users tack extra points onto existing recognitions. Recognition engagements are a good measure of engagement with the program overall.
Create a culture of recognition with Achievers
While we've outlined some best practices and ways to get started, what matters most is the recognition tool you select. The best recognition platforms provide real-time insights and the ability to integrate with tools employees already use. Most of all, your platform must be built to encourage the frequent and meaningful recognition needed to drive adoption and employee engagement.
Achievers Recognize can help you build a winning recognition program and measure its success. Achievers Recognize is a science-based recognition solution that integrates with Workday, Salesforce, Slack, Outlook, and Teams. Its intuitive technology helps employees get onboarded quickly and allows them to incorporate recognition into their daily routine. Global brands use Achievers Recognize to encourage their employees to do their best and recognize others who are doing the same. What's more, Achievers customers are 54% more likely to rate their recognition culture highly than customers of other technology providers.
Achievers is committed to the success of their customers, partnering with them to find correlations between recognition and key business metrics. Start fostering your culture of recognition by scheduling a demo of Achievers Recognize today.