Get engagement insights delivered to your inbox
Email address
If you're looking into how to improve wellbeing at work, or instilling a new wellbeing program, this new research is for you. HR and business leaders know that wellbeing affects workplace performance, but sometimes the journey to cultivating a solution for wellbeing in the workplace can be a long one. We wanted to help shorten the time it takes to demystify the ways in which people want to experience wellbeing at work — and create new pathways to help managers deliver them.
We set out to understand: what improves wellbeing at work? Everything we do is anchored in scientific research, data, and analytics, much of it conducted by our own Achievers Workforce Institute. The AWI, as we call it, is our workforce science arm, steering the organization and conducting industry-leading research on employee engagement.
We mined the academic literature to identify the ingredients that comprise the powerful construct to this concept of wellbeing and conducted a survey soliciting input from 2000 employees and 1000 HR leaders around the world.
What emerged was eye-opening.
Download Empowering Employee Wellbeing in the New World of Work today
Firstly, people at work are not getting the wellbeing support they need. Only a quarter of employees say their company supports employee wellbeing and just one in five say they feel physically and mentally healthy. Even fewer report that their wellbeing is supported at work.


According to the AWI 2021 Culture Report on Belonging at work, employees who feel supported to take care of their physical and mental wellbeing are 2.5 times more likely to feel a strong sense of belonging, and more likely to be engaged, productive, and resilient. So, we asked employees what it would take for them to feel a sense of wellbeing at work. Here's what they revealed as the top three drivers:
Feeling included, accepted, and valued
Being warmly welcomed and made to feel part of the team
Having a supportive manager
What's more, employees who say they receive weekly meaningful recognition are twice as likely to report a high level of physical and mental wellbeing and are twice as likely to say they feel capable of managing their stress at work. The data was telling us was that recognition fosters all three drivers of wellbeing at work.

But a recognition solution is effective only if it is done right. At AWI, our research found a strong connection between frequent recognition and higher levels of employee wellbeing.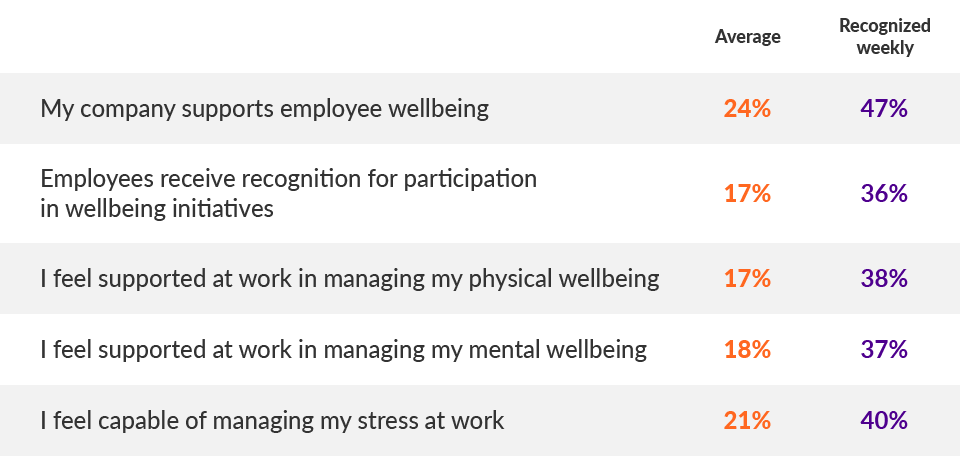 Taking it full circle, people that receive recognition for participation in wellbeing initiatives are 2.5 times more likely to say they feel a sense of physical and mental wellbeing. It's not only frequent recognition that drives better feelings of wellbeing. A recognition program that focuses on the right behaviors can help drive holistic health for employees. There's a real missed opportunity here, since just 28% of HR leaders say their organization recognizes wellbeing activity.
What's more, we identified a major gap between C-suites and non, when it comes to how much employees are recognized for participation in wellbeing initiatives. Specifically, one-third (36%) of C-suite respondents believe employees receive recognition for these types of initiatives, compared to just 14% of senior individual contributors and 12% of junior individual contributors reporting the same!
While many leaders believe they are recognizing wellbeing behaviors, that action isn't being perceived by most of their team members.
"Employees receive recognition for wellbeing initiatives at my workplace"

Your tool for engaging employees with meaningful recognition is right here.
One of the most common concerns around launching a recognition program has to do with ensuring that it doesn't become a conduit for exchanging vapid, meaningless praise. For recognition to be effective at reinforcing key behaviors and impacting culture and belonging, it must be meaningful to the person receiving it.
Now that we have intel from employees that frequent recognition can play a powerful role as a protective factor for wellbeing in your workplace, we recommend using the Recognition Best Practices guide from the 2021 AWI Essentials series as your tool for keeping recognition ideas aligned with what employees need and want.
The top four factors you won't want to miss are: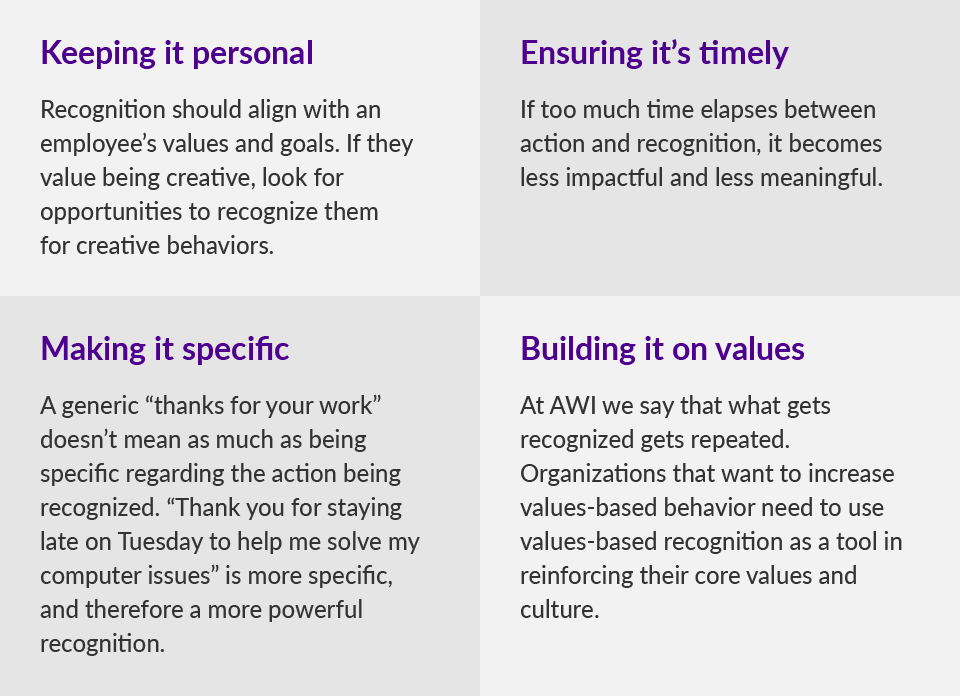 Some interesting data emerged from the AWI study on how organizations with a recognition platform outperform those without a formal program when it comes to wellbeing outcomes. It's not surprising, then, that one-third of companies increased their reward and recognition budget during the pandemic.
Bolstering your success with a recognition platform
This is what really excites us at AWI: how technology can help nurture culture. We all want to do the right thing, but sometimes we need just a bit of a nudge, and technology can help us do that. Recognition platforms are a great example of how technology is already playing a powerful role in driving effective recognition for wellbeing efforts. We've uncovered that employees who have access to a recognition platform are twice as likely to receive meaningful recognition weekly or monthly, compared to those without a platform.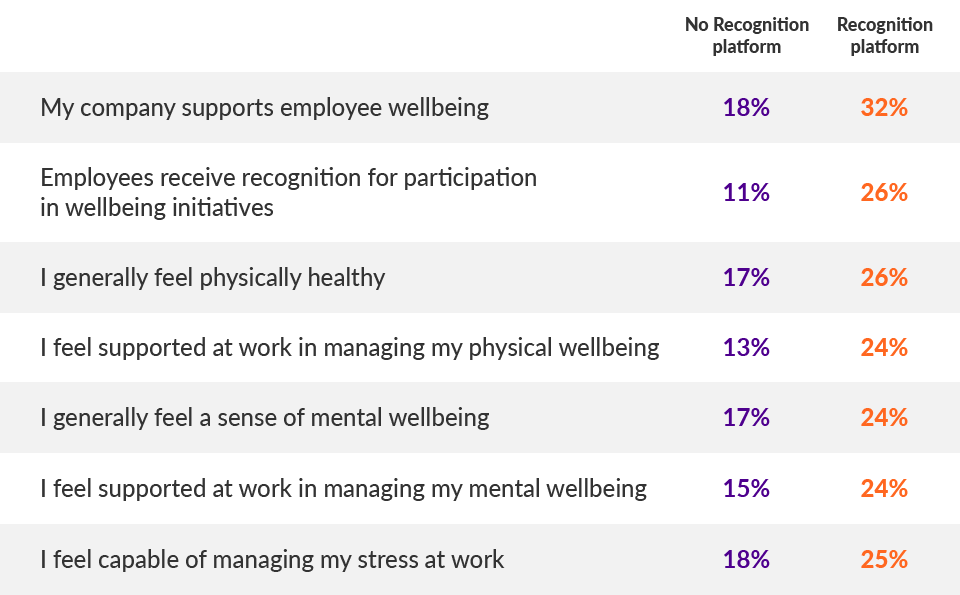 Today's business leader has the challenge and opportunity to introduce bold wellbeing initiatives, based on employee feedback and market best practices, to enhance their employees' lives both inside and outside the workplace. Developing a thoughtful wellbeing strategy and supportive tactics to enhance employee health and wellness ensures a happier, healthier employee population — a critical driver in a competitive business market. Now that you know why wellbeing at work is so important, you won't regret using data-driven best practices from the science of recognition for your wellbeing strategy. The impact it will have on your employees in the new world of work will be all the reward you'll need.
Download Empowering Employee Wellbeing in the New World of Work today to get all of the details and insight this latest research has to offer for your wellbeing strategy.