Get engagement insights delivered to your inbox
Email address
Do you make it your priority to hire diversity across your organization? If you always recruit from the same places, with the same methods, you will always get the same people. In today's competitive market you need to be creative. You have to go where the candidates are and have a long enough lead-time to get a good selection of candidates. If you want to be ahead of the competition, and bring in more innovation, then think with a diversity of thought mindset.
Here are seven winning strategies to ensure you hire diversity of thought and onboard employees that bring a diverse set of thoughts and ideas.
1. Research thoroughly
Research and develop a list of colleges that historically have large numbers of women, people with disabilities, and people from different cultural, ethnic and racial backgrounds. Send recruiting teams to those schools to hire diversity.
2. Expand perspectives
Consider expanding your recruiters' perspective. They may be conscious of recruiting people across the diversity spectrum, but are they looking for people who are the "exact right fit" meaning people who think exactly like you? Determine whether they are listening and looking for people with new ideas, who are creative problem solvers, and innovators.
3. Have an open mind
Train recruiters to have an open mind when it comes to interviewing candidates and hiring diversity of thought. Have them go beyond the suit, shoes, and haircut, and have them focus on the knowledge behind the exterior. Instead of questioning appearances or nervous habits, question which candidates can bring diversity of thought and innovation to your business.
4. Gather feedback
Don't let one person be the judge of it all. Consider having a diverse panel conduct interviews so you can get feedback on candidates. Ask your teammates to think about whether or not you're focusing strongly enough on diversity of thought when recruiting prospects.
5. Grow your network
Attend hiring events and come prepared to discuss the benefits of working for your organization and your industry. Don't limit yourself to just the people in front of your eyes though. Expand your network by asking attendees to share your job opportunities with their connections in the field in case they might know someone who is a strong fit. The quickest way to grow a diverse network is of course through social media. Have your team and peers share your job opportunities across their social media platforms, including LinkedIn, Twitter, Facebook, Google+, and more.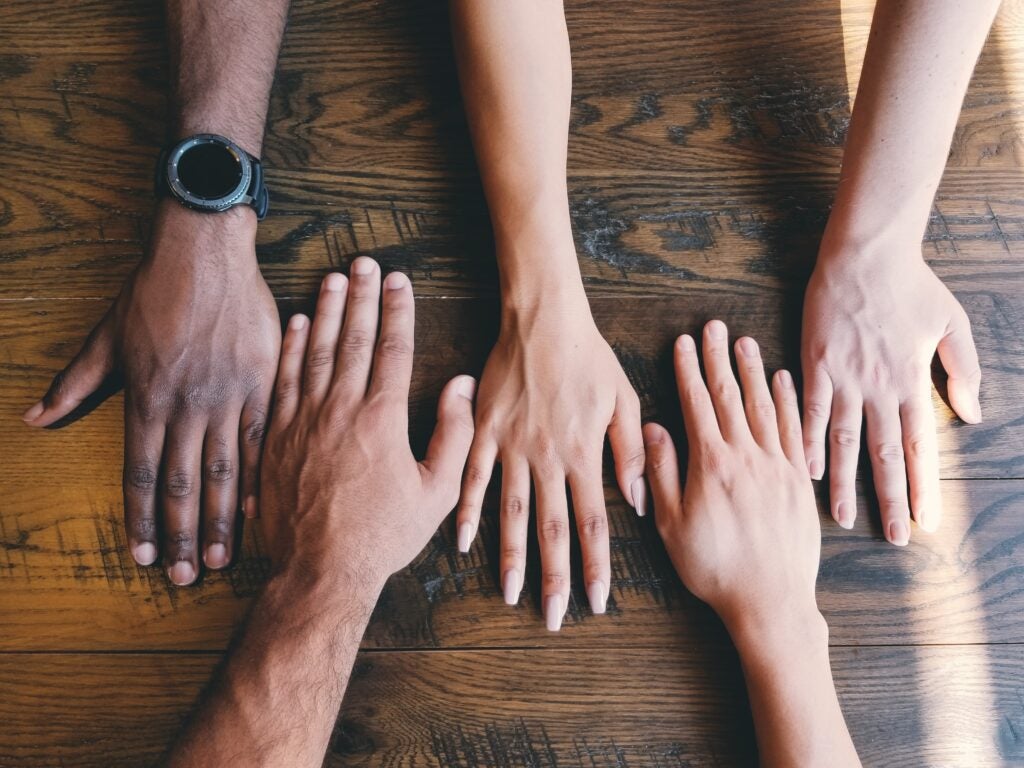 6. Collaborate with organizations
Find opportunities to work with other organizations when hiring diversity. Develop relationships with diversity-related organizations. For example, when recruiting on college campuses, think of the different diversity-focused student organizations you can collaborate and sponsor events with.
7. Ask the right questions
Listen and be engaged when getting to know your candidates. Ask the right questions, such as asking for their insights and observations about your organization or what they would change or do differently. See if their answers bring something new to the table and bring diversity of thought.
A great example of a leader who searched for diversity of thought was a CEO of a facilities management company who wanted to hire more female managers. Instead of recruiting from his industry, he started attending meetings of women in real estate.
"I wanted to find women who would bring different experiences so we could get fresh ideas. I looked for women who understood property management from the client's perspective, and would challenge the way we've always worked. We now have several women in decision making positions as a result, and we've been able to better serve our clients."
By gathering different perspectives, he was able to source new ideas and cater to client needs more effectively.
Make it your priority to hire diversity
Organizations can grow and increase their market share dramatically when they bring people of diverse backgrounds together. With diversity in the workplace, you are able to provide opportunities for your team to share different experiences, talents and perspectives. One of leadership's job is to access and mine that diversity of thought and let it shine, or your organization and the people in it will wilt and fall behind. The choice is yours. Hire creatively.
Learn how to build an amazing workplace culture where every employee feels included by accessing Achievers' report, "The Business Impact of Inclusive and Frequent Recognition."