Get engagement insights delivered to your inbox
Email address
According to the Work Institute's 2017 Retention Report, 75% of the causes of employee turnover are preventable. That's excellent news for your HR budget, as the cost of replacing entry-level employees alone hovers near $4,000 per position. A small change in human behavior can be enough to indicate damage in employee motivation. Yet, detecting early signs of employee disengagement is never an easy task. It requires excellent observation skills and strong empathy to respond in a way that restores engagement across your organization.
At a time where barriers between leaders and employees are at an all-time low and with 70% of employees wanting to spend more time with their manager, simple actions stemming from emotional intelligence and intuitive leadership are powerful enough to correct a subtle motivation drop. Here's engagement clinics to discover how you can address early signs of employee disengagement.
Note: All names have been changed for privacy considerations.
High Performers: Empowerment is Not Anarchy
Efficient, committed, and highly engaged, Jane was the next talent to accelerate.
Jane's manager assumed that since she was a high performer, she didn't need much handholding to sustain her performance. But Jane's sense of achievement dropped in the course of a few months, an early sign of employee disengagement.
The challenge for any leader is to adjust space for employees to be empowered. For a high performer, too much attention to what she does is micro management. But attention to how she does it and why she does do it can give off the wrong message.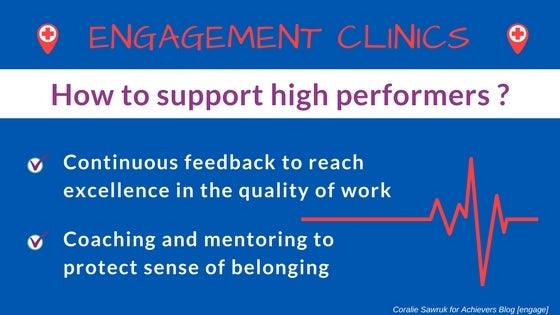 Treatment
As any other employee, high performers need frequent recognition to protect their sense of belonging. They want strong feedback to reach excellence in their work. And they crave coaching and mentoring to level up their "soft" skills. After all, 68% of millennials who intend to stay in their company for the next 5 years are involved in mentoring programs.
Discovery of Potential: Stories and Limiting Beliefs
I remember very well Simon. Simon was the go-to expert in his area. Considering his immense knowledge and potential for relationship-building, I assumed his next step was to develop his leadership skills.
What I underestimated at the time is that Simon had little appetite for stepping out of his comfort zone. Early signs of employee disengagement showed up as plain resistance, from "I'm not sure I can do it" to "this is completely useless!".
Each leader should pay extra attention to words of resistance. Resistance is the seed for limiting beliefs that can become given realities for the employee, and get in the way of performance.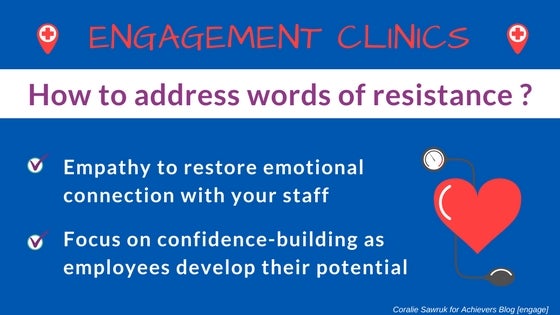 Treatment
80% of employees would work longer hours for a more empathetic employer. An emotionally intelligent leader knows that a huge part of the job is to attend to team members and support them towards having a delicate balance of confidence and performance. Performance starts with clear goals. Confidence grows when you support your employees as they achieve those goals, and show them where their true potential is.
In Tune with Culture: The "Selective Memory" Syndrome
How often do you try to communicate a message to your team and some still don't get it? Frustrating, right? It's nothing else than human nature.
Driven by fight or flight responses, humans are not wired to navigate change easily. If you try to suggest change towards the way your team behaves, you can might be criticized or worse, ignored. It could be tempting to take criticism as "venting moments". But if left unaddressed, those early signs of employee disengagement can lead team members to question if their values are still aligned to the company's mission and values.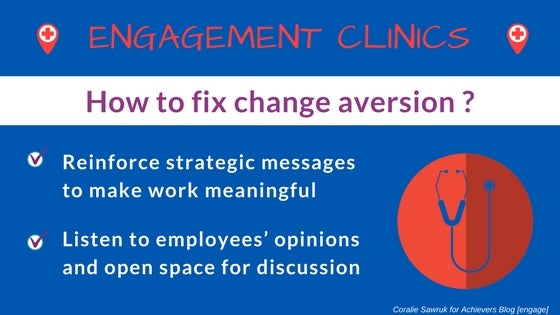 Treatment
According to Deloitte's Talent 2020 series, "performing meaningful work" is one of the top three motivational drivers for employees. For team leaders, it could be as simple as making top level communications relatable for everyone and taking the time understand what type of work each of your team members enjoys doing.
In addition, listening to your employees on a daily basis fosters a safe space for them to express their opinion. With the availability of advanced HR technology listening to your employees on a daily basis is now easier than ever. Check out intelligent active listening interfaces such as Achievers' Allie™. With Allie, you can get clear insights on your employees' pulse and receive honest feedback.

Final Thoughts on Employee Disengagement
Deloitte just released its 2018 Human Capital Trends report, where it stated the following:
"Most companies are struggling to recruit and develop these human skills of the future. Despite having an increasingly clear understanding of the skills needed in a world where humans work side by side with machines, 49% of respondents do not have a plan to cultivate them."
One of those "human skills of the future" is to ensure your leadership includes the best employee engagement and retention tactic: fostering human connections so that you can spot (and address) early signs of employee disengagement.
Do you want to learn more about employee disengagement? Check out Achievers' white paper, The True Cost of Employee Disengagement.