Get engagement insights delivered to your inbox
Email address
Are you looking for employee recognition survey questions? Perhaps you're among the organizations who have invested in social recognition but aren't getting good results. Why is that? While there are many possibilities, often poor adoption comes down to one thing: recognition programs are only effective when designed with employees in mind 一 and employees' perspectives change over time. Without asking employees for feedback, it's impossible to build a program that continues to meet their needs.
You need a way to ask employees how they feel, take their feedback to heart, and put new recognition strategies into practice. Here's why you should be conducting employee recognition surveys, plus fourteen sample questions to get you started.
Why use an employee recognition survey?
Employee recognition surveys provide organizations, and their employees, with a lot of great benefits. Using employee recognition surveys help to:
Understand what's important to your employees
Address employee concerns
Create a great workplace culture
Make employees feel valued
Retain top talent
The number-one way to make your employees feel valued — and to retain them —is through manager recognition. Twenty-one percent of employees say they chose to stay in their current position as a result of the recognition they'd received.
However, these metrics are only attainable when your recognition program is performing well, everyone at your organization is providing frequent, meaningful recognition, and your employees are able to obtain rewards they actually want. If metrics show that your employee recognition program isn't catching on, it's time to take the pulse of team members to find out how it can be improved. Look for a solution that makes collecting feedback simple and guides managers, HR, and other leaders from insight to action.
How do you make an employee recognition survey?
Creating an employee recognition survey is about asking the right questions at the right time. Employees are more likely to share their feedback in the moment, and through tools that make it easy (even fun) and fit into the flow of work. A chatbot can live within your existing systems and is a great and friendly way to gather employee feedback that allows you to take timely action, as needed. They often pop up to prompt employee feedback at set intervals, asking them to share how they're feeling about work that day.
Here are five steps to help you make an employee recognition survey:
Step #1: Use a smiley face scale
Keep your questions — especially the first one — clear and to the point to encourage participation. Try adding a satisfaction scale to identify their level of satisfaction or dissatisfaction.
Step #2: Acknowledge and response
When an employee initiates feedback by selecting a response (emoji or otherwise), set up the chatbot to acknowledge their level of satisfaction and to ask a simple follow-up questions to probe a bit further. To reduce barrier to providing feedback, offer a list of options/feedback areas to choose from.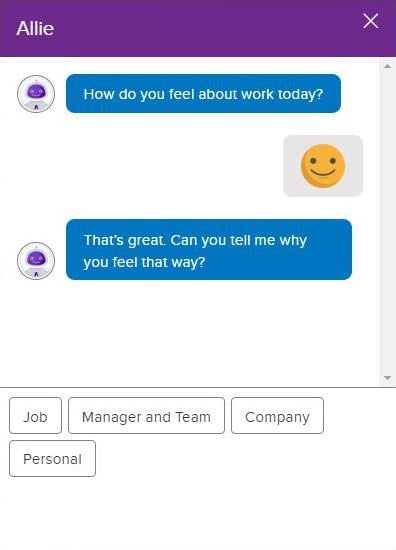 Step #3: Ask for specifics
Once you've gotten to the area that the employee is providing feedback on, ask for specifics to better understand the praise/criticism. Again, provide a list of options for the employee to choose from.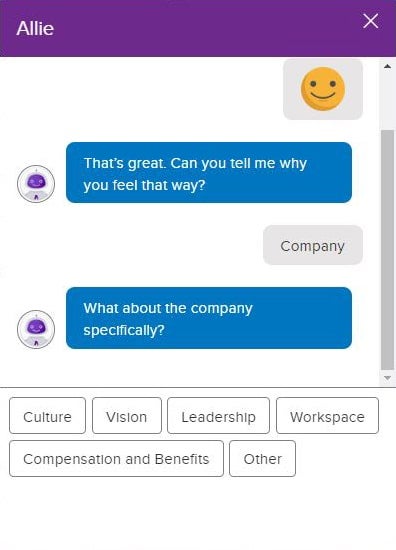 Step #4: Gather ideas for improvement
Again, it's important to acknowledge the response, whether it be positive or negative. Then follow up with a question asking for the employee's suggestions for improvement (even if the feedback was positive). Provide a space for employees to type out their ideas rather than selecting from a predetermined list.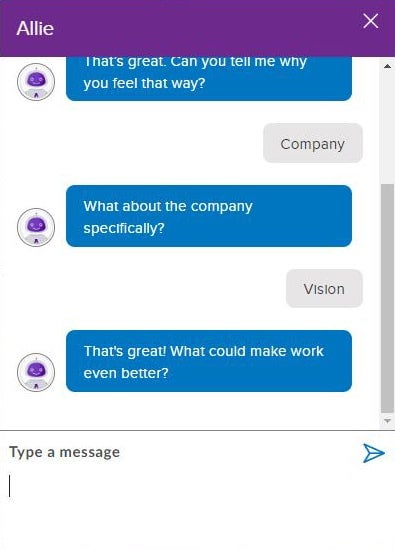 Step #5: Communicate the next steps
At this point, you've kept the feedback loop brief, while giving the employee the opportunity to be as thorough as they'd like in their comments. It's important to communicate that their feedback will be shared, reviewed, and actioned. Then, be sure to take action — it ensures that employees will continue to be transparent about their experience and share ideas for improvement.
25 employee recognition survey questions
Employee recognition is a key part of creating and sustaining a safe, inclusive, and rewarding culture. And an employee recognition survey can tell you exactly how well your attempts to foster that culture are going. Here are fourteen questions that help you get to the root of any issues and highlight what's going well.
1. Are you satisfied with the amount of recognition you receive at work?
If employees aren't getting adequate recognition at work, they won't be inspired to perform well. Getting a baseline understanding of how happy employees are with recognition on the whole and within specific departments gives you an idea of whether or not your recognition program is moving in the right direction. If you find patterns within certain groups, consider reaching out to leadership and suggesting ways to infuse more recognition in the employee experience.
2. What benefits do you most value – and what new incentives would you like to see offered?
Incentives are a great way to encourage behaviors that align with your company values. Knowing which benefits you currently have are valued most can give you ideas of what types of new incentives employees might want. You can even try putting some ideas on the survey and seeing which ones get the most votes.
Remember that employees' perspectives on this may change based on where they are in life. For example, if they become parents or are caring for an ill loved one, they may prefer more time off over additional professional development opportunities or tuition reimbursement. Being as inclusive as possible matters 一 professionals satisfied with their benefits are more than twice as likely to be satisfied with their work.
3. Do you feel valued at work?
If your organization doesn't act like it values its employees, why should they value their role with your organization? Use the Likert scale here to get a general pulse on how employees feel, but leave room for optional free-form answers. Employees might be willing to provide more context that can help you determine next steps, address any problems, and prevent turnover.
4. Do you understand what type of behavior is recognized at this company?
Telling a direct report or coworker "good job!" doesn't really feel like recognition, and that's because it's not specific or meaningful. To the receiver, it seems like you weren't paying attention to what they actually accomplished or didn't care enough to describe why what they did was so great.
Asking this question gets to the meat of this dilemma. If team members don't grasp what behaviors should be recognized, it's doubtful that they're showing appreciation in ways others truly get excited about. If you get a lot of "no" responses to this question, find ways to coach employees on how to give recognition properly. This could involve presenting at an all-hands meeting, department meetings, or even training initiatives for the entire organization.
5. What type of recognition and rewards do you want most?
Recognition can come in many forms 一 a quick thank you over chat, a public shoutout during the weekly staff meeting, a gift of reward points on your employee recognition platform, and more. Being aware of what types of appreciation employees prefer helps your company boost the impact of its recognition program.
For instance, if you hear from your employees that they're not satisfied with the same old years-of-service awards, it may be time to up your organization's recognition game. A recognition platform that includes a points-based rewards system lets employees award and redeem those points for things they actually want. Employees may also tell you they're looking for more intangible rewards like great experiences or the chance to make charitable donations. If so, look for a solution that includes a rewards catalog offering these and other fun ways to recognize employees.

6. Are employees recognized fairly at our organization?
Diversity, equity, and inclusion should be top of mind at your organization, especially when it comes to your recognition program. Unfair practices can counteract the positive effects of your program and negatively impact company culture at large. Try adding a text box to collect additional optional details when asking this question. Employees may not always feel comfortable sharing their experiences, but even a few responses can give your company the context it needs to build a more equitable experience.
7. Are you awarded appropriately for reaching important milestones?
Passing a certification, finishing a graduate degree, or serving the company for 5 years are all reasons to celebrate. Acknowledging employee milestones is a major part of a successful recognition program. So if the response to this question is lagging, you may want to think about how to introduce more opportunities to recognize employees or send reminders to prompt them to do it more frequently. For example, some recognition platforms allow admins to schedule automatic emails about employees' birthdays or work anniversaries. Other organizations have experimented with creating their own milestone awards, like "best listener" or "outstanding customer service" to commemorate great effort on the part of an employee.
8. How can we improve our employee recognition program?
All HR leaders should want to know the answer to this million-dollar question. As discussed earlier, recognition is tightly linked to many other employee-related metrics, so new ideas for amplifying an employee recognition program are gold. Try to add help text underneath the question to encourage employees to reflect. Remind them that recognition should align with the company's culture and values, get them more energized, and feel closer to their manager and peers.
9. What can we do to make recognizing others easier?
Sometimes employees simply aren't aware of a new recognition program, aren't educated on how to use it, or feel they are too busy to spend time on it. If it's not easy and quick to recognize someone, employees simply won't do it. And if your employees are telling you that recognition is not fast or straightforward, brainstorm ways to change that.
If you have a recognition platform, dig into the data to see what features aren't being used as much as they could be. Send emails to employees when they haven't sent a recognition in a while and suggest people on their team to recognize. Most importantly, analyze employees' answers to this question and others for the insights you need to make the recognition experience exceptional.
10. How frequently do you give recognition?
Consistent recognition goes a long way. Imagine if team members at your company were showing recognition on a daily basis 一 how much more cohesive would your company culture be? Getting a sense of how often employees make an effort to recognize someone is important because it can uncover ease of use or awareness issues that HR can fix.
11. How frequently do you receive recognition?
Flipping the previous question on its head can be just as revealing. Again, the goal is for everyone to recognize others frequently, which should, in turn, increase the amount of recognition they receive. Framing these questions as multiple choice makes them easier to answer and gives more meaningful data. Use timeframes like "daily," "weekly," "monthly," or "yearly" to see how often team members are appreciated.
12. Do you receive enough recognition from your manager and other leaders?
Employees crave recognition from leadership because it makes them feel like their work was valued at the highest level. When managers and other leaders show appreciation, they set an example for the rest of the organization to follow. If employees feel that recognition from their managers is low, ensure that managers understand the importance of recognition and the critical role they play. You can also work with managers to establish new traditions to celebrate team accomplishments, birthdays, and work anniversaries.
13. Is it easy to engage with others' recognitions using our employee recognition platform?
Your employee recognition platform should empower employees to recognize others wherever, whenever, and however they want, presenting them with an engaging recognition experience. When evaluating recognition solutions, choose one with an intuitive user interface, integrations with applications that employees already use, like email or messaging platforms, and the ability to send both social and monetary recognition to anyone spontaneously. Most of all, select a platform that makes recognition a joy to provide and receive.
14. Can you provide recognition when and where you want to?
In a hybrid workplace, employees need to be able to practice recognition whether they're working from home, at the office, or on the move. Using a cloud-based, mobile-first recognition solution guarantees employees can send and receive recognition no matter where they work. The more convenient your organization can make providing recognition, the more employees will participate.
15. How often do you receive recognition?
Frequent, in-the-moment recognition lets employees know their efforts are appreciated, and employees produce better work when they are recognized for it. And, employees are more likely to repeat the behaviors that are recognized and rewarded, helping to reinforce company values and culture.
16. Do you receive meaningful recognition?
To understand if your recognition is having a positive impact, you have to ask those being recognized. Your employee recognition survey should provide insight into how they feel about the way in which recognition is delivered and received, and the perceived value of the rewards being offered.
17. What type of rewards would motivate you the most?
Asking employees what kinds of rewards they like the most will help you understand if your rewards marketplace is motivating productivity and impacting engagement. Providing valuable rewards — and diversity of rewards — ensures that employees find recognition meaningful and motivating.
18. How can HR make the recognition program better?
If you sense dissatisfaction with your recognition and rewards program, as employees for suggestions on how to improve it. This allows employees to not only participate in the program design, but provide their feedback anonymously if they prefer to do so.
19. Is the recognition program assessable and easy to use?
Ensuring that your employees know your recognition program exists is the first step. Next, you have to ensure that it's easy to find and use — from beginning to end. If employees respond saying that the program is complicated, time-consuming, or not fun to use, it's a good time to reevaluate their end-to-end experience.

20. Does the recognition you receive for going above and beyond feel proportionate to the effort made?
Some employees frequently put in extra effort and go the extra mile for their peers, team, and organization. Those who go above and beyond should always receive recognition from people leaders. This survey question will give you insight into how the company treats its high achievers — an important factor in retaining top talent.
21. Is recognition easy across locations/countries?
If your organization is spread across multiple locations or countries, it's important to know if recognition across geographical regions is easy. Building personal relationships can be challenging when across remote teams, but employee recognition is critical in a distributed workforce. Asking this question can help you make sure you have a team of engaged employees regardless of where they work.
22. When was the last time you received recognition from management?
If your employee recognition survey indicates that it's been several weeks since most employees received recognition from management, there may be a gap between leaders and their direct reports. This should be a prompt for managers to reevaluate how, and how often, they give kudos.
23. How does recognition impact employee morale?
Ultimately, the goal of your employee recognition program is to keep your people engaged and productive at work. Asking how your employees see recognition affecting morale will help you determine if the current program is effective in keeping.
24. Does the organization value and recognize innovation?
You can use recognition to incentivize employees to develop new ideas to solve business problems. The question will hopefully reveal that employees are satisfied with the acknowledgement they receive when they contribute new ideas. If it doesn't, it's time to find a way to better recognize these contributors.
25. Does the company culture promote employee engagement?
As you build a culture of recognition, you'll want to measure the effect of recognition given and the reported levels of employee satisfaction and engagement. This will help you identify the efficacy of your recognition programs and identify areas to make adjustments.
Understanding and acting on employee recognition survey results
Developing a standout employee recognition program isn't a one-and-done activity. It takes a concerted effort to understand how employees are responding to and interacting with your organization's recognition initiatives. Even more importantly, a successful recognition program requires a commitment to continuous improvement as your company grows and evolves.
This is a significant challenge that no HR team has to overcome alone. The Achievers Experience Platform, in the form of Achievers Recognize and Achievers Listen, can help. Achievers Listen gives you insight into recognition and all the other factors that affect employee engagement, while Achievers Recognize helps employees make a habit of recognizing their coworkers in a public, meaningful way.

Employee recognition survey FAQ
How do you survey employees about recognition?
Organizations can survey their employees about their experience with recognition by creating an easy-to-use survey tool that prompts frequent feedback. It's important to understand if the recognition program you have in place is working to motivate, or if it's having unintended impacts on engagement.
What are the benefits of employee recognition surveys
The benefits of employee recognition surveys are similar to recognition itself. When employees are asked for their feedback through survey tools, they feel more valued. When their feedback is actioned, they see that they are an important part of the organization and can play a role in shaping the corporate culture.
When should I use an employee recognition survey?
You should use an employee recognition survey at least quarterly, while also offering employees the option to provide feedback in between through always-on chatbots or other open channels of communication. While some organizations worry about survey fatigue, it's less of a concern to ask employees often for feedback when they see that their comments are valued and addressed.
How often should I send an employee recognition survey?
It's best practice to use surveys frequently. Rather than sending out a survey once a year, opt for a continuous listening approach where you collect survey responses from employees on an ongoing basis. This will help you better understand how satisfied your employees are with the recognition they receive throughout the year, rather than simply capturing a moment in time of their employee experience.