Create a culture that means business™
Email address
Job satisfaction is at the heart of employee engagement. And as early as 1959, it received decisive momentum when Psychologist Frederick Herzberg published the Two Factor theory of motivation. Herzberg's research suggests that fulfilment at work is due to two set of factors:
Motivators – intrinsic conditions of the job
Hygiene factors – extrinsic factors causing in dissatisfaction if absent
With more advancements in brain science over past decades, Herzberg's psychological studies have been given deeper scientific substance. Today, neuroscience (the study of the nervous system) can explain the fundamentals of human motivation at a molecular level.
This makes me question: how can we leverage neuroscience findings to help optimize employee engagement initiatives?
Let's explore …
Neuroscience and Motivation
In "Motivation on the Brain – Applying the Neuroscience of Motivation in the Workplace", Kimberly Schaufenbuel details the four core drivers of motivation at work:
Drive to Defend: this is the only brain circuit triggered when people feel threatened. The most common "threat" at work is to feel undervalued. Usually triggered by lack of feedback or line manager interactions, it can be fixed through continuous, positive feedback.
Drive to Acquire: the need to seek, to take control, and to retain objects and personal experiences of value in pursuit of immediate gratification. This can be fulfilled with short term gratification through employee recognition and rewards.
Drive to Bond: the brain is wired to be social, and this drive allows like-minded people with shared interests to work cooperatively together.This is strengthened by a company culture where collaboration is valued, and leaders positively "walk the talk".
Drive to Learn: The natural desire to make sense of our world and ourselves. It exists in a cooperative atmosphere where curiosity is rewarded and knowledge freely shared.Through appreciation and gratitude, you can encourage creativity and learning.
Address the Drive to Defend: Continuous Feedback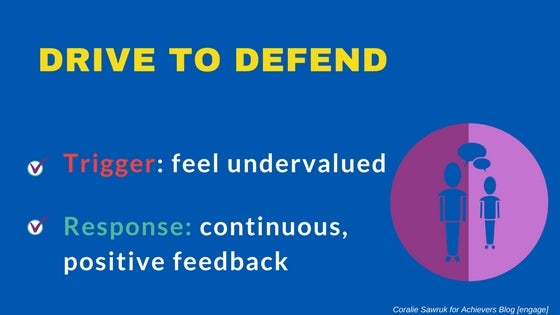 Did you know that our brain interprets "social pain" much like physical pain?
This is the conclusion of the work by Naomi Eisenberger, Psychologist at UCLA.
Let's take employee feedback and annual reviews for instance. If sporadic, people can experience those as an attack on their "status". The brain is quick to perceive feedback like a physical attack, and reacts with a defensive strategy.
Achievers, a leader in employee engagement and recognition, has been an advocate of continuous feedback and listening. Egan Cheung, Vice President of Product at Achievers, shared at the 8th Annual Achievers Customer Experience (ACE) conference in New Orleans:
"To engage a modern workforce, an organization needs to be continuously listening to its employees."
Access to constant feedback is now real. Achievers recently released Listen, where employees can provide feedback to management on their day-to-day issues via check-ins and pulse surveys.
Achievers' Listen goes even a step further, taking into consideration the importance of positive feedback. Allie, an intelligent, digital "coach"; interacts with employees in a familiar conversational way, while guiding employees with effective feedback and providing recommendations back to managers.
Address the Drive to Acquire: Incentives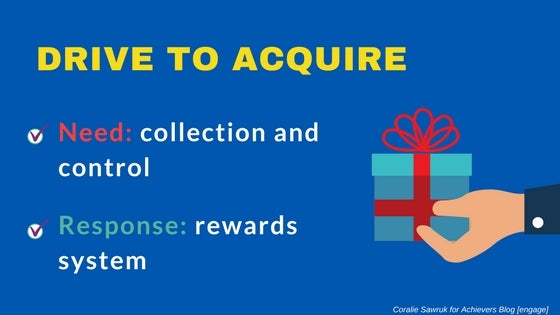 The value of incentives to motivate employees has been debated for long. Still, money can be effective to express appreciation: a survey by Harris Interactive and Glassdoor revealed that 75% of employees consider a pay raise as a form of appreciation.
But some leaders argue material gifts are a short-term fix only. What does neuroscience to say about it?
Receiving a gift triggers an immediate dopamine response in the brain. Described initially by Wolfram Schultzreward more than 30 years ago, reward systems in the brain heavily influences our behavior.
Achievers' platform is a good example of alternatives to cash bonuses. Through points-based employee recognition, each employee can receive monetary and non-monetary based rewards and recognition.
And it works! As shared at ACE 2017, organizations using a rewards and recognition technology solution reported better levels of employee engagement, employee retention, and productivity over the course of a year.
Address the Drive to Bond: Social Connection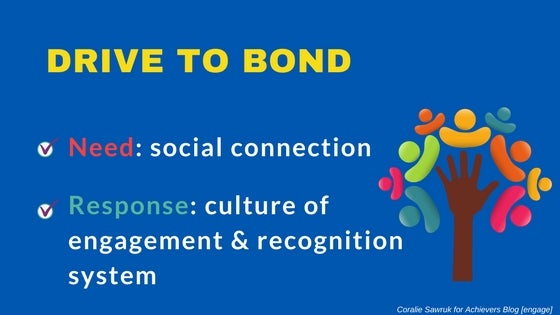 Matt Lieberman is the Director of UCLA's Social Cognitive Neuroscience lab. In his TEDx St. Louis talk "The Brain and Its Superpowers", he shares:
"Social is not one of our programs. It is our basic operating system."
According to Matt Lieberman, the default state of the brain (when where we're not cognitively engaged in anything specific) is to deepen our social cognition network. He shares:
"This network comes on like a reflex to think about other people's minds — their thoughts, feelings and goals…It promotes understanding and empathy, cooperation and consideration."
Promoting social bonds is a pivotal dimension of employee engagement. As organizations go global, a common platform to share and connect is a simple way to tap into social drive.
A case study covering Ericsson's employee engagement and recognition program stated:
"The program spreads positivity throughout the geographically dispersed organization, connecting employees – through recognitions they post on daily basis – to each other, and to the company"

Address the Drive to Learn: Appreciation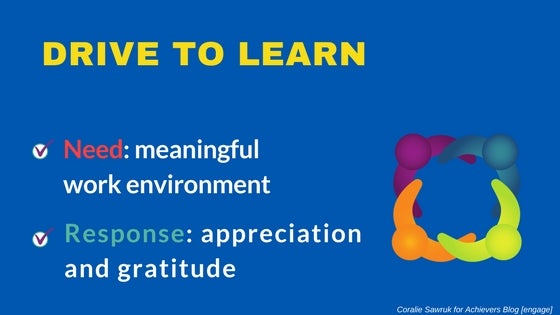 Small acts of generosity and gratitude trigger a specific neurobiological feedback loop. Glenn R. Fox (Brain and Creativity Institute at USC), conducted extensive research and concluded:
"When the brain feels gratitude, it activates areas responsible for feelings of reward, moral cognition, subjective value judgments, fairness, economic decision-making and self-reference."
Employee recognition can directly impact employee engagement levels. As the brain responds to gratitude with a positive feedback loop, needless to say that a recognition-based culture can do more than a feel-good effect! The by-products of gratitude at work are serious business assets, such as enhanced creativity, increased happiness and productivity, and better cooperation within teams.
By aligning your employee engagement strategies to main human motivation drivers, you tap into dopamine reward loops and create a lasting positive feeling.
What is the value behind employee engagement? To learn more, download this white paper covering The True Cost of Disengagement.