Get engagement insights delivered to your inbox
Email address
Turbulent times not only impact businesses, they affect employees. As Chief Customer Officer at Achievers, I understand our customers' need to focus on the continuity of their culture and engagement in times of uncertainty. During a time of disruption, organizations need a plan to ensure they continue to create a work experience that is unique and valued by employees.
Boosting morale in the grocery industry when spirits are low
Front-line workers in the grocery industry have been particularly impacted by today's global pandemic. With demand for food and household goods soaring and customer anxiety skyrocketing, these workers are facing increased pressures on the job. Despite some customers choosing to self-isolate, nearly half are still visiting grocery stores and curbside pick-up is up 17 points to 36 percent. Shifting customer buying habits and generalized anxiety brought on during this time of crisis have given rise to new employee engagement challenges—and created an environment that many businesses, grocery industry and otherwise, have never before experienced.
To address and pre-empt dips in engagement and performance, and prevent potential turnover due to burnout, retail grocery brands have had to pivot their strategy to ensure culture continuity and engagement among their teams. This re-focusing on engagement is critical since organizations that maintain culture continuity are 6x more profitable than their competitors.
Here's how three major grocery industry chains in North America: Coborn's, Sobeys and another major U.S. grocery retailer are leveraging their existing employee recognition programs to support their teams during the pandemic.
1. Pause to say thank you
When times get tough, the brands in the grocery industry that are serious about their employee engagement turn to a simple, but impactful approach: saying thanks.
Coborn's, a growing retail and grocery company with 8,000 employees at locations across Minnesota and South Dakota, have been using the Achievers platform to recognize and reward their workforce since 2015.
As tensions began to rise in the early days of the pandemic, Coborn's used the Announcements feature within their Achievers program Kudos to share a 'thank you' message from their CEO, Chris Coborn, to all employees. Announcements is a feature displayed front and center on a program's homepage and allows customers to communicate important information and updates across the company.  With the ability to have these announcements trigger push notifications, this feature is an especially effective tool for reaching offline employees.

Screenshot of Coborn's Kudos program with 'thank you' message from Chris Coborn to all Coborn's employees
Coborn's knew expressing appreciation for their employees and the hard work they were doing for their communities and the business would have a big impact on morale and performance. They also understood that thanking their employees would help to nurture a culture of recognition when employees needed it most—and it worked. After the onset of the pandemic, Coborn's saw a 185 percent increase in recognitions over the previous month.
2. Keep the conversation going
With news about the global pandemic evolving daily, Coborn's CEO, Chris Coborn, regularly utilized the Announcements feature as a channel to broadcast important company-wide announcements and key updates to employees. Shared were important messages from their CEO and leadership team, social distancing best practices, resources for childcare, family games and activities, platforms for video chatting, and step challenges to stay healthy—an initiative sponsored by the Coborn's Well-Being team.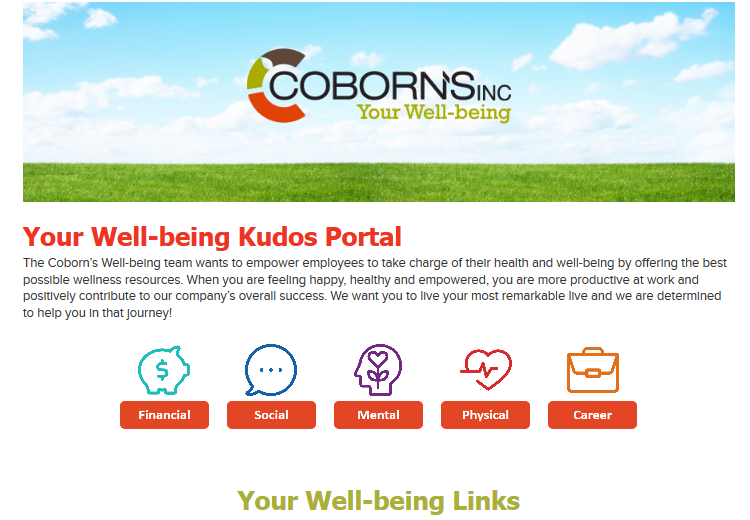 Image of Coborn's Well-being portal, containing initiatives promoted through Announcements
A large U.S. superstore with tens of thousands of employees also leveraged Announcements to deliver key messages. In doing so, they discovered that it was an excellent channel through which to capture employee reactions, feedback, and questions.
Having previously run many campaigns via their Achievers program, they knew that it was a popular and powerful channel through which to reach their predominantly offline employee base with time-sensitive and important information. The ability to access their program through the Achievers mobile app meant that their largely offline population would remain informed.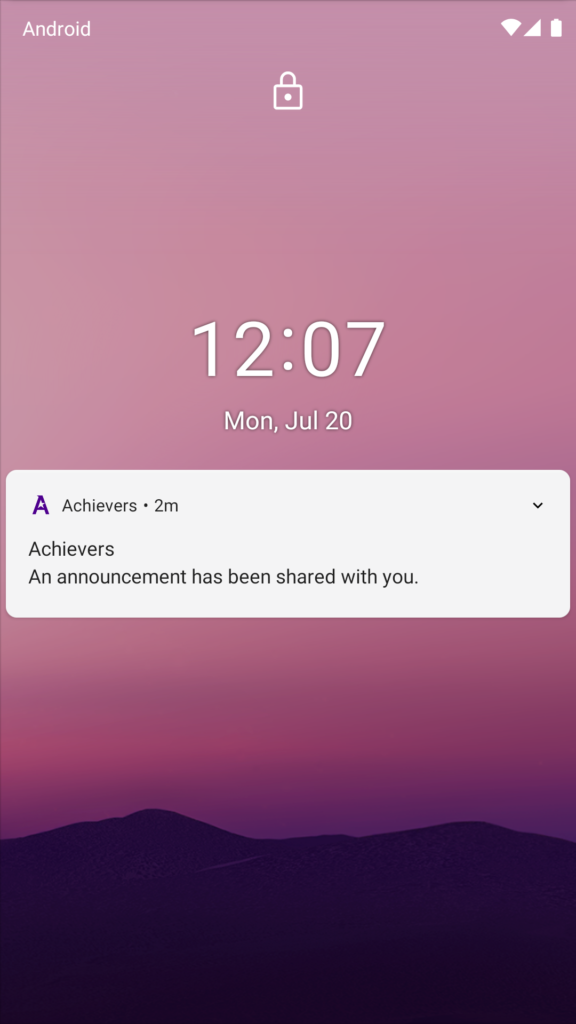 Sample Announcements push notification on mobile
At the onset of the pandemic, this grocer shared a company-wide update on the impact of the pandemic via their Achievers program thanking team members for the work they do and providing important, time-sensitive updates on business operations. This first pandemic-related announcement was read by the majority of their employees and generated nearly 1,500 comments.
With these high program engagement rates, they quickly realized that the best to way to reach their predominantly offline workforce was via Announcements and they've continued the two-way conversation with their front-line and in-office staff using this Achievers program feature—following up on any concerns through HR and at the local store level. This major U.S. grocery retailer relied on the Achievers platform for key data and insights based on their employee data, so that they could action feedback quickly and with positive impact.
During the pandemic, their recognition and communication efforts increased even further—and the impact was immediate. Seven Announcements generated 3,826 likes and 10,382 comments for a total of 14,208 interactions.
This major U.S. grocery retailer continues to use Announcements to share written and video updates, and good news stories as told by their front-line workers—adding a bright spot to an otherwise difficult time. In addition to their program's other attributes, Announcements has reinforced their decision to partner with Achievers to keep their workforce engaged and feeling valued during both good times and times of crisis.
Sobeys, Canada's second largest grocery industry chain, was another company to lean on their Achievers platform for support during the pandemic. They, too, leveraged Announcements to share critical and evolving information and directives with their front-line teams. Additionally, Sobeys created a static content page to host and share a 'thank you' video from their business partners which acknowledged the Sobeys workforce for their dedication during the pandemic.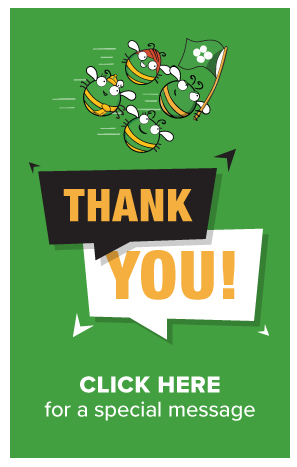 Program ad from Sobeys' Achievers program directing employees to view the Thank You video from their business partners
3. Increase recognition frequency and spend
Employees who receive an average of one non-monetary recognition per month are 43 percent more engaged than those who do not.
At the onset of the pandemic, Coborn's knew that this was not the time to retreat on their engagement strategy–it was an opportunity to reinforce it. They ramped up their recognition budgets to encourage location leaders to increase the frequency of recognition to their front-line employees, keeping the staff motivated and engaged and further demonstrating their commitment to their people.
In addition to increased recognition frequency and spend, Coborn's launched a new recognition category, Safety & Well-being, to reflect and reinforce the importance of employee and customer safety across their 120 locations. In the first month alone, 2,770 recognitions were received under this new value, accounting for seven percent of all recognitions received during that time frame.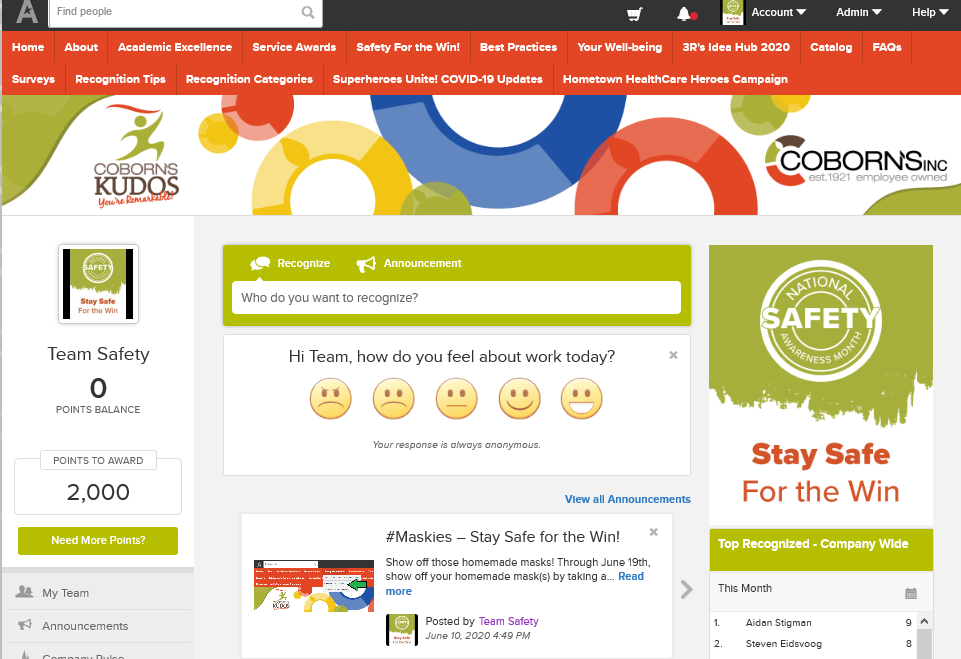 Creative from Coborn's Kudos program showing the promotion of their Safety & Well-being campaign
The major U.S. grocery retailer chose another way to increase their spend on employee recognition. To recognize, reward, and further thank team members for their incredible work during the pandemic, they used their Achievers program to announce an hourly appreciation bonus — a message that generated close to 4,000 comments. Plus, the company's non-bonused employees also received two program points bonuses directly from the CEO to use toward any unexpected needs during the crisis. Accompanying the first bonus in program points was a note that read "We're grateful for your tireless efforts and dedication to taking care of our customers and the communities we serve." The second point bonus included a note from the CEO about how proud he was of how everyone in the company had come together to overcome so many unexpected events over the past several months.
This grocery retailer's recognition efforts and actions yielded sizeable engagement results:
In the first month of the pandemic, activity on the program platform was up 58 percent for individual contributors and 48 percent overall. For a workforce that is predominately offline, these figures are impressive.
Recognizing impact on the community
While their front-line employees helped community members access the necessities, many grocery industry retailers looked for other ways to help those in need.
For the major U.S. grocery retailer, supporting their community meant providing free meals from local restaurants to truck drivers at its distribution center. To further support local eateries and those on the front-lines during the pandemic, they've also launched a program offering restaurant-made meals to employees.
As another gesture of understanding and appreciation, they are also allowing store employees to shop during the special hours designated for essential service workers, because they, too, are on the front-lines and are providing for their families during these difficult times.
Sobeys was quick to recognize the impact on their community in a unique way. Given the increased demand at their stores and the large number of suddenly unemployed individuals across other industries, Sobeys chose to temporarily hire furloughed workers from other industries forced to shutter during the pandemic.
See first-hand how Coborn's partnered with Achievers to drive their employee engagement.
Coborn's, ECI and Blackhawk Network Level-Up Their Employee Engagement with Achievers Listen
This way forward
Across all industries, we're astounded to learn How Companies Are Leveraging Achievers During Times of Crisis. We're pleased to support organizations with an award-winning platform, program features, and insights that help them build a culture of recognition and performance—even during the most difficult of times.
For organizations in the midst of employee engagement challenges resulting from the pandemic, we offer actionable insights in our webinar: How to Maintain Culture Continuity During COVID-19.
Learn how Achievers recognition and reward solution, Achievers Recognize, can engage your employees and accelerate their performance—and how our employee voice tool, Achievers Listen, uses data science to collect feedback and provide actionable insights—through crisis and beyond. Schedule a live demo of the Achievers platform today.